Sewing With Vinyl and Faux Leather Hints and Tips
Posted on
Sewing With Vinyl and Faux Leather Hints and Tips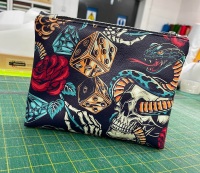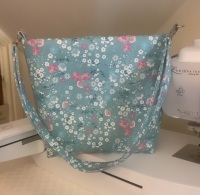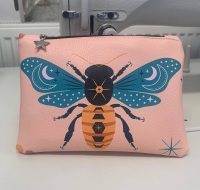 We know that there are many ways to sew with vinyl and faux leather, but here are some of my tips for sewing with vinyl
I have a singer heavy duty along with my Juki industrial machine and the Highlead heavy duty.
Our Favourite tools
So, let's start with the basics, choice of needles I prefer to use micro tex 80 and if the vinyl is a little thicker, I swap out to a 90.
Make sure you are always use a quality thread that doesn't snap. Our choice is moon thread
Don't us pins on faux leather and vinyl it will leave holes and they won't come out. Get yourself some wonder clips they are perfect for bagmaking.
Tip 1 – Longer Stitch Length
When sewing with vinyl and faux leather make your stitch length longer, I set mine to around 3.0mm a bit longer if needed but please do test with your faux leather first get a little square and do a few tests stitched maybe even try and layer up your offcuts. This will save the mistakes when sewing your bag.
Tip 2 – Teflon and walking foot
If you don't already, you're going to want to invest in these, if you can't afford both straight away then go with the Teflon foot first as this really helps with sticky vinyl. I know you can use tape under a normal foot but if you're planning on sewing with a lot of vinyl then its best to invest.
Buy a quality one that's made for your machine, trust you will be able to tell the difference
Tip 3 – Turning the vinyl (Applying heat)
Yes, you can apply heat to vinyl but please never apply direct heat to the front of the vinyl it will melt.
When you're turning the vinyl you can use a hair dryer, pop it on a radiator or even leave it in the sun for a little bit (But this is the Uk so not always an option), once the vinyl has heat applied it will make the vinyl more pliable and easier to turn.
If you are applying interfacing or your ironing, please use a pressing sheet or even just a tea towel, and only even on the back of the vinyl never the front.
Our recommendations for vinyl and faux leather for bag making
We test all of our vinyl's and faux leather before we offer them to you, so that we know we are only offering quality fabrics. And all our products will work just some are trickier to master.
Here are our top picks for sewing
We sell by the metre and in rolls (16" x 52" Wide) we do this so that vinyl doesn't get damaged when folded and it keep postage more affordable then sending a rolled half metre.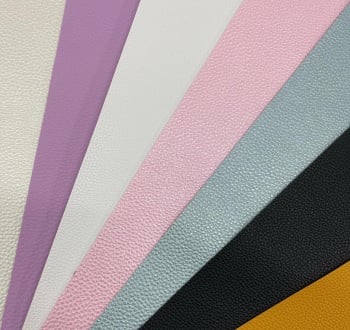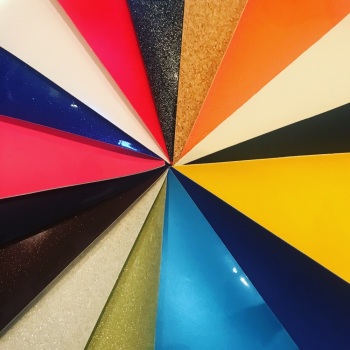 Do I need to interface my vinyl and faux leather for bag making?
No, you don't have to, but check your pattern and the intended finished look.
And then you'll also have to consider the type of faux leather you are using.
I have a sample book with all the faux leather with different interfacing I find this helps when planning my next project
My favourite interfacing is Vilene Fusible Fleece, either 630 or 640 and I love Decovil light and heavy again depends on the pattern.